85th Annual Terrapin Derby is Saturday
Friday, October 2, 2015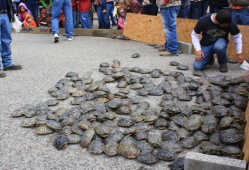 The following is the schedule of events for the 85th annual Terrapin Derby, which is set for Saturday, Oct. 3, in downtown Lepanto.
8 a.m.-???: Vendors, crafts, and food on Main Street
8 a.m.-???: Crafts, music, and food at Stevens Square
8 a.m.-5 p.m.: Tours of the Hallmark Hall of Fame's "A Painted House" at the south end of Main Street
9 a.m.-5p.m.: Lepanto USA Museum selling books--"Stories of Old History"
9 a.m.-???: Carnival on Main Street
11 a.m.: Crowning of the Terrapin Derby Queen on the Main Stage
12-1 p.m.: First Baptist Church Praise Teams
2 p.m.: Terrapin Derby Parade, sponsored by Ritter Communications
3:45-4 p.m.: Prize drawings on Main Stage
4-5 p.m.: Famous Turtle Race in front of Main Stage, sponsored by Little River Bank
5-7 p.m.: J.R. Rogers Band on Main Stage
7 p.m.: Turtle Day Tussle--Mixed Martial Arts bouts at EPC Gym, sponsored by Sunken Lands Chamber of Commerce (doors open at 6 p.m.)
7-8 p.m.: Jake Lung and Sobriety Check Band
8-11 p.m.: Loose Change