Cantrell seeking re-election as Poinsett County Judge
Saturday, October 3, 2015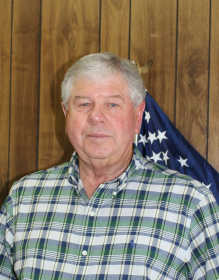 Poinsett County Judge Bobby Cantrell of the Marked Tree area announced he will be seeking re-election in 2016. Cantrell has served just over nine months in his first term as county judge.
In a statement he said, "I want to thank the citizens of Poinsett County for giving me this opportunity to serve them as their county judge. It has been a challenging time, but it is fulfilling to see so much improvement. We have made several changes in taking care of the gravel roads by grading, installing culverts, drainpipes and cleaning drainage ditches to eliminate flooding. There is a lot to be done, but we have a plan to get our county roads and bridges where they are safe for travel."
"During this year, we have found ways to save taxpayer money on heavy equipment for the county and the new road department shop. The 60'x80' shop building project was completed in August and came in under budget," Cantrell said.
According to Judge Cantrell, 55,000 yards of gravel have been hauled, covering about 730 miles of roads. Asphalt has been applied to several miles of county roads also during his time in the position.
Judge Cantrell said he is most proud of the efficient use of tax dollars. "We, as a county, need to take every opportunity to use our tax dollars in a wise and useful manner," Cantrell said. "We have some new graders, trac-hoe and mowing tractor to make us more efficient while maintaining our budget. The new shop has been our most challenging. We were able to save the county several thousand dollars, which we can use to get the road department the equipment we need."
"We are faced with many challenges, and I would like to stick around to see our improvement plans realized. I don't think my job here is done. With the support and cooperation of the community, I would love the opportunity to continue to improve infrastructure and continue growth and development of the entire county," Cantrell said.
Judge Cantrell has lived in Poinsett County his entire life. He lived at Harrisburg from 1946 until his dad bought a farm and moved to "Harrisburg Corner" Payneway in 1956. He graduated from Marked Tree High School in 1963 and married his "high school sweetheart" Janice Wray in 1965. He retired in 2005 as pipe welder in steel fabrication and quality control. He owned his own business for 20 years, Cantrell Welding and Fabrication. He and his wife are active members of Nettleton Baptist Church, and his favorite scripture is Phillipians 4:13, "I can do all this through him who gives me strength."
"I thank the people of Poinsett County for having confidence in me and voting for me in the last election. If re-elected, I will continue to serve the citizens of Poinsett as I have already," Cantrell said.