Molder running for Poinsett County Sheriff
Sunday, October 4, 2015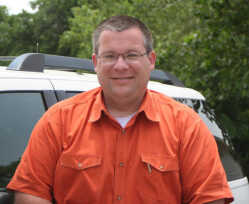 Poinsett County Chief Deputy Kevin Molder announced he is running for the position of Poinsett County Sheriff.
"It is with great humility that I ask the people of Poinsett County to elect me as their next sheriff," Molder said in a statement announcing his candidacy. "I have worked my entire career to be ready for this moment. This is not a decision that was made quickly or without a tremendous amount of thought, planning, and prayer. I am ready to do this job."
Molder's resume includes over 20 years of experience in law enforcement and security operations including criminal investigations, public affairs, urban patrol, undercover work, supervision of patrol officers, coordination of programs and planned actions, and personnel training. One of the region's most trained law enforcement officers, Molder has over 1,700 hours of advanced law enforcement training and over 170 college credit hours.
"In addition to street level law enforcement, I have spend the past 15 years as a facilitator and trainer with a diversified background in education," Molder said. "I have been recognized for creating stimulating and interactive learning environments, encouraging participation and individual contributions, and providing effective, clear, and concise information to law enforcement officers and college students. This is something I understand, something I believe in, something I am passionate about."
If elected sheriff, Molder said he wants to build on his 20 plus years of experience by embracing new technologies and taking law enforcement in Poinsett County to a new level. "Ultimately, it's about the safety and protection of our citizens, and it's about our next generation. We will wake up every day with a commitment to the preservation of life and property and to making sure our children and grandchildren grow up in a county that encourages their success," Molder said.
"We will work as hard as we can to eradicate the sale and use of drugs in our county. We will work to increase patrols in the rural areas. And we will have a cooperative and strong working relationship with our local communities' police departments, the Arkansas State Police, and the Sheriff's offices in our neighboring counties," Molder said.
Molder and his wife Laura have two sons, Brandon and Dylan, and one granddaughter, Sadie.