Lions Club meets new Trumann basketball coach
Monday, October 5, 2015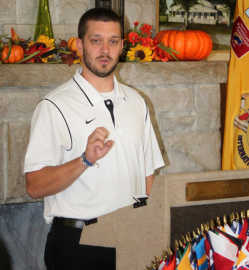 Chad Wise, Trumann High School's new head boys' basketball coach, spoke to the Trumann Lions Club recently.
Wise is a Manila High School graduate who also starred for the Lions' basketball team. After graduation, Wise attended Harding University before transferring to Williams Baptist College to finish his degree. He returned to Manila to be a girls' assistant coach for two years before moving to Blytheville to take the head junior high boys coaching job last year. "Since I was seven years old, I knew I wanted to be a coach," Wise said.
Wise said when the coaching job opened at Trumann, he told his wife he was going to apply for it. He said his wife's words to him were, "You're not going to get the job, but go for it. We've just built this new house. God's not going to move us this soon."
Wise met with Trumann Athletic Director Scott Waymire and told Waymire he would love to have the job. "May 26, I got the call that I had been hired. May 27, we rented a house in Trumann, and on May 29 we had our first practice," Wise said. "By June 1, I thought there was a whole lot more to this job that I realized."
See the rest of the story in the Oct. 1 edition of the Poinsett County Democrat Tribune or read the paper digitally.