Big second half carries Junior Indians to win
Friday, October 2, 2015
Marked Tree scored 26 points in the second half to overcome a lackluster first half to gain a 26-6 win over Midland in junior high football action at Don Lovell Memorial Field last Thursday.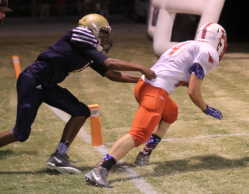 Midland received the ball first and drove into Marked Tree territory before turning the ball over on downs with 4:08 left. Justin Ellis' two big runs moved the ball past midfield only to see Marked Tree fumble the ball away with just under two minutes left in the opening quarter. The Mustangs again moved the ball in Marked Tree territory as the first quarter came to an end with the score 0-0.
Full story in the October 1 edition of the PCDT!