Hornets drop football conference opener to Cave City
Friday, October 2, 2015
Harrisburg (1-3, 0-1 4A-3) got down early, closed the gap in the third quarter, but two Cave City scores in the fourth sealed the game as the the Hornets fell 50-22 this past Friday at Hornet Stadium.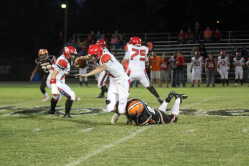 Cave City got on the board first as they took the opening kick-off and drove down field for a touchdown with 8:37 left. The two-point play was no good leaving the score 6-0 Cavemen. Harrisburg was driving on their first series until Gavin Casebier had he ball stripped away after a pass from Clay Wright would have gotten the Hornets a first down. Harrirsburg's defense got a sack from Walker Hammond on third down to force Cave City to punt. Dakota Lee muffed the punt return as Cave City recovered on the Hornets 20-yard line. The Cavemen couldn't convert a fourth and four turning the ball over at the Harrisburg nine-yard line. Harrisburg had to punt the ball back to Cave City on their next possession. The quarter ended with Cave City driving and holding a 6-0 lead.
Get the full story in the October 1 edition of the PCDT!