Junior Warriors fall in battle of the undefeated
Thursday, October 8, 2015
EPC and Cross County both came into the game with 4-0 records on the season with the winner taking the driver's seat for the 2A-3 junior high conference race. The Junior Thunderbirds (5-0) jumped out to an 18-0 lead in the first half before withstanding a second half rally from the Junior Warriors (4-1) to win 18-14 last Thursday nigh at Warrior Field.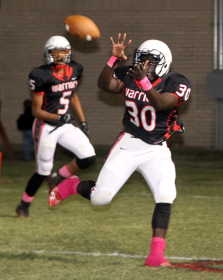 Cross County got the ball to start the game and used their big offensive line and big running backs to drive down the field and score on a one yard quarterback sneak from Kaden Harrell to go up 6-0 with 3:58 left in the opening quarter. Tysean Garrett led a host of Junior Warriors stopping the two-point conversion run. EPC was forced to punt on their first series giving the ball back to the Junior Thunderbirds. Cross County was driving when the quarter ended.
Pick up a copy of the October 8 PCDT for full story!