Ground broken for new elementary school
Thursday, October 8, 2015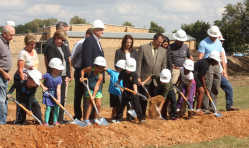 After a groundbreaking ceremony held Tuesday afternoon, the construction of a new elementary school for Trumann is under way.
Cedar Park Elementary was built in 1962, and the buildings have definitely seen better days. Parts of the facility flood when it rains, the bathrooms do not have adequate access for disabled students, and the size of classrooms are not up to current standards. When Superintendent Myra Graham was campaigning last year for a millage increase to help pay for a new K-4 elementary school, she said she has been saving money for renovation since she started as superintendent in 2011. But when state officials inspected CPE, they found the buildings were not adequate for students and said renovating would be more costly and time-consuming than building a new school.
During last year's school election on Sept. 16, the community approved a millage increase of 2.8 mills, bringing the millage from 35.8 to 38.6. The $5 million raised by the millage increase, together with the money the district has already saved up and $4.7 million from the state, will pay for the elementary school, which Graham said had a guaranteed maximum price of $12.9 million.
Trumann School District's new elementary school will sit off Willow Avenue, behind where CPE is now. The new school will be 92,000 square feet with room for future growth as needed along each wing. The school will feature 1,000 square foot Kindergarten classrooms, an improvement over the current 750 square foot classrooms that will bring Trumann's Kindergarten classrooms up to current standards. There will also be updated restrooms and added security. "The new facilities are set up like the high school where visitors will have to buzz in," Graham said. "This gives our parents and grandparents peace of mind."
School Board President Taylor Morgan said the new elementary will also feature safe rooms on each wing to give students quicker access in the event of tornado warnings. The school's safe rooms will also be open to the public in the event of tornado warnings just as the current one is.
See the full story in the Oct. 8 edition of the Poinsett County Democrat Tribune or read the paper digitally.