EPC student attends science and technology congress
Sunday, October 11, 2015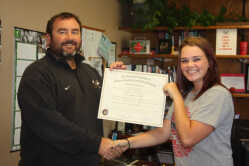 It's always exciting when one gets to attend a meeting of minds with people who share one's interests and passions. Cecilia Tacker, a Junior at EPC High School, got to do just that this summer when she was chosen to represent EPC at the Congress of Future Science and Technology Leaders in Boston.
"I was excited because you go into a room that's full of people who are excited about technology and science," Tacker said.
Tacker's interests lie with technology and computers, and while she isn't sure what she wants to do when she grows up, she definitely wants to do something with technology or involving computer engineering. Right now, her personal interest is in how computer programming and technology can be used in medical advancements.
"I knew I loved computers as soon as I learned to walk," Tacker said. One of the things that got her interested in computer programming was the game Minecraft. Some of her older friends were making modifications to the game, and she was amazed. "I thought it was cool that you can make a game do whatever you want," Tacker said.
Tacker said one of the coolest speakers was also one of the youngest: Jack Andraka, who created a new diagnostic test for pancreatic cancer at the age of 15. The test--which is 28 times faster, 26,000 times less expensive, and over 100 times more sensitive than current tests--won him first prize at the Intel International Science and Engineering Fair in 2012. "Even though people told him he couldn't do it, he kept going," Tacker said. "That told me it doesn't matter how old I am as long as I have that push."