Trumann School District gives public report
Monday, October 12, 2015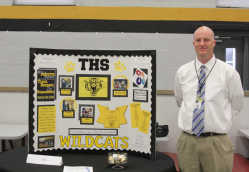 The Trumann School District held their annual report to the public during their regular board meeting on Monday, Oct. 5. Faculty and staff were available to speak with the community about school programs, and Superintendent Myra Graham delivered an overview of the district.
According to Graham, enrollment is steadily growing. Enrollment for the 2014-2015 school year was 1,639 students. When Graham started in the 2011-2012 school year, enrollment was 1,516. In 2012-2013 it rose to 1,560, and in 2013-2014 it rose to 1,604. She said this year's Kindergarten class is smaller than usual at 129 as of Oct. 1. Kindergarten is usually around 150. But she said it should grow next year as Pre-K enrollment, which is used as a predictor of Kindergarten enrollment, is back up this year after being down last year. "We're expecting to continue to grow," Graham said.
Graham also spoke about the facilities plans. The biggest plan is the construction of a new elementary school, which broke ground Tuesday. The district is also looking at a new roof for the Trumann Intermediate School gym and repairs to the gym floor. She also spoke about keeping sections of current elementary building and refurbishing them for the Pre-K program to use, replacing all the wood panelling with sheet rock to lessen fire hazards, writing a grant for a new safehouse, remodeling buildings, and moving the football locker room to the back of the old agri space.
Graham spoke about the beverage contract, where money made off soft drinks goes back to students, and said the $1,360 made off soft drink sales was spent on homecoming floats, roses for senior night, spelling bee registration, educational excellence plaques, and meals for sports players and spelling bee contestants. Graham also spoke about the district's equity compliance.