Hazel Orr
Wednesday, October 14, 2015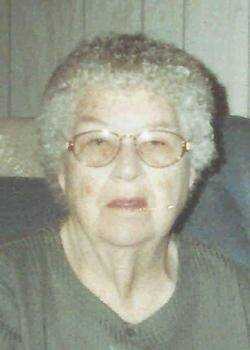 TRUMANN - Mrs. Hazel Marie Orr of Trumann, died Sunday, Sept. 27, 2015 at Arlington Cove Nursing Center in Trumann at the age of 88. Mrs. Orr was born in Charteroak, MO., and lived in Trumann for the past 57 years. She was a retired employee of Salant and Salant and a member of the Faith Baptist Church. Mrs. Orr was preceded in death by her husband, Rev. Joe T. Orr; one daughter, Jana Cannon; two sons, Gary Fike and Ronnie Fike; one step-son, Gene Orr; five sisters; eight brothers; and her parents W.W. and Della Mae Peterson Huckaba.
She is survived by two sons, Mickey Fike and David Fike both of Trumann; two step-daughters, Stella Haynes of Marietta, Ga., and Jo Faye Stimson of Crystal Beach, Fla.; two step-sons, Henry Earl Holt of Paragould and John Paul Orr of Sarasota, Fla.; eight grandchildren, Misti Bufford, Rodney Hayse, Tonya Hidgon, Mickey Fike Jr., Wendy Fike Hollie Brook, LeAnn Fagan and Sarah Fike; 19 great-grandchildren; and seven great-great-grandchildren.
Funeral services were Sept. 29 in the chapel of Thompson Funeral Home with Rev. J. W. Hodges officiating. Burial followed in the Unity Cemetery near Jonesboro.
An online register book can be signed at www.thompsonfunealhome.net.