Junior Wildcats beat Harrisburg to stay undefeated
Thursday, October 15, 2015
Trumann (6-0, 4-0 4A-3) used their potent running attack to gain a 40-12 win over conference rival Harrisburg (1-5, 0-4) last Friday in junior high football action at Wildcat Stadium.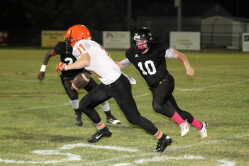 Harrisburg got the ball first to start the game and moved into Trumann territory. Electing to go for a first down on fourth and four, Jett Jackson's pass to Noah Quirrels came up just short turning the ball over to Trumann with 6:25 left in the first quarter. Will Ryan White wasted little time as he scampered 42 yards for the Junior Wildcats' first score of the night to make it 6-0. Zach Buchanan ran in the two-point conversion play to make it 8-0 Trumann. Brett Barbaree's big sack on third down forced the Junior Hornets to punt the ball away. Trumann got aggressive and was flagged for roughing the punter giving Harrisburg a new set of downs with 3:30 left. Harrisburg took advantage of the penalty as they drove down and scored when Jackson and Quirrels hooked up on an 18 yard pass play for the score. The two-point pass play was no good leaving the score 8-6 Trumann with 21 seconds left. The quarter ended with Trumann up 8-6 and driving.
Full game story in the October 15 edition of the PCDT.