Gordon's big night carries EPC to win
Thursday, October 15, 2015
Kyler Gordon stepped up big time when his team needed him rushing for 264 yards and four touchdowns as the Warriors (3-3, 2-1 2A-3) broke open a close game in the second half on their way to a 52-28 win over Rector (0-6, 0-3) on Homecoming Night at Warrior Field. EPC lost running back/linebacker Chanc Gray with a possible ACL tear during warm-ups.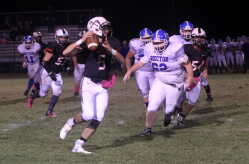 The Cougars took the opening kickoff and marched 82 yards to score the first points of this conference match-up. Lawson Ford carried the ball in from a yard out for the Rector score making it 6-0 with 8:34 left. Ford hit Bam Westbrook on the two-point conversion pass to make it 8-0 Cougars. EPC answered with a three yard touchdown run from Gordon with 5:52 left. Gordon's run was set up by a Clay Malone to Dee Buchanan pass to the three-yard line. Gordon added the two-point conversion run to make it 8-8. Rector answered quickly as Westbrook took ensuing kick-off and raced 87 yards for a Cougars' touchdown to make the score 14-8 Rector. Ford's two-point pass attempt was incomplete. EPC turned the ball over on downs on their own 42-yard line only to see Rector return the ball on downs to the Warriors at the Cougars' 48-yard line. EPC drove down the field and it looked as Malone was going to run for the first down before stopping and hitting Peyton Phillps with a 24 yard pass for an EPC score making it 14-14. Gordon was stopped on the two-point conversion run. The first quarter ended with the score 14-14.
Pick up a copy of the October 15 PCDT for full story!