Marked Tree Alumni give students career advice
Friday, October 16, 2015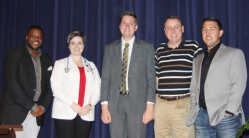 Marked Tree juniors and seniors got the chance to ask questions of a distinguished panel of Marked Tree alumni during the school's College and Career Week.
Panelists included Trey Stafford, 1979 graduate and co-owner of Jonesboro Radio Group; Josh Brown, 2001 graduate and co-owner of Haag-Brown Realty; Robin Rye Dabney, 2003 graduate and nurse practitioner at UTMP-Vascular and Endovascular Surgery; Jarrett Perry, 2006 graduate, computer systems analyst for admissions at UCA, and a Gates Scholar; and Zack Tucker, 2007 graduate and mayor of Monticello, Ark.
The panelists fielded several questions from students ranging from important life skills to challenges faced to things they wished they had learned in high school.
Stafford stressed four things he had learned are the secrets to success. The first was the importance of being "insatiably curious about things you don't care about," he said. Stafford said being curious about a wide variety of things, and keeping up with things he wasn't even interested in, had always helped him to establish relationships and make connections. Stafford also stressed the importance of being able to hold an in-person, eye-to-eye conversation--a skill he said automatically puts one ahead of 95 percent of job applicants.
Tucker said public speaking is a crucial skill to have. "Public speaking is the number one fear in America over spiders and death," Tucker said. "Being able to get over that hurdle literally opens doors."
Tucker told students one of the challenges he had faced in becoming mayor was his age. "Last year, I had to convince at least half of 8,000 people that this guy who wasn't from Monticello, who was 25, could run the show," Tucker said.
When asked if being from a small town hinders one's ability to succeed, Perry said, "Definitely not. It starts with you. You have to have the mindset to want to do better and push forward. My teachers, parents, friends, and people in the community all helped push me forward."
See the full article in the Oct. 15 edition of the Poinsett County Democrat Tribune or read the paper digitally.