Junior Warriors hold off rival Marked Tree for win
Thursday, October 22, 2015
EPC (5-2, 4-2 2A-3) jumped out to an early lead before withstanding Marked Tree's (2-5, 2-4) second half charge to down their county rival 24-14 in junior high football action last Thursday at Don Lovell Memorial Field in Marked Tree.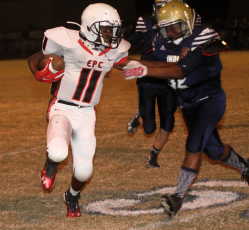 EPC got the ball to start the game and wasted little time finding the end zone. Adam McClain hit TJ Bush with a swing pass that Bush carried down to the Marked Tree 9-yard line. Rayshon Gates scored the first points of the night as he took the hand-off and ran 12 yards for the touchdown. Gates also added the two-point conversion run to make it 8-0 EPC with 5:52 left in the opening quarter. Marked Tree was forced to punt on their first possession and Gates mishandled the ball before getting the ball back and racing to the Junior Indians 30 yard line. McClain's big run to the Marked Tree three-yard set Gates up for another score with 2:11 left. Gates scored from three yards out and again added the two-point conversion run to make the score 16-0 Junior Warriors. The score stayed the same as the quarter ended.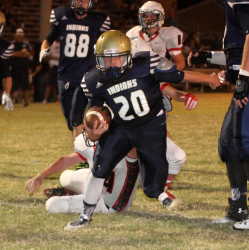 Pick up a copy of the October 22 edition of the PCDT for full story!