Harrisburg holds on for win over Wildcats
Thursday, October 22, 2015
Harrisburg (2-5, 1-3 4A-3) made a huge stop on a two-point conversion play to down Trumann (4-3, 1-3) 33-32 in high school football action at Hornet Stadium this past Friday night.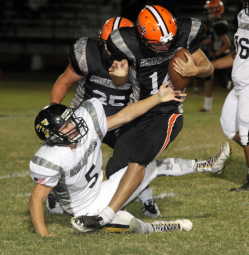 The Hornets got the ball first and drove to the Wildcats' seven-yard line before a penalty and loss of yardage backed them up the 22-yard line. Electing to go for a first down on fourth and sixteen, Clay Wright's pass to Gavin Casebier was incomplete giving the ball to Trumann on their own 22-yard line. Trumann took advantage of the turnover as Cade Gartman bolted 85 yards for a touchdown giving the Wildcats a 6-0 lead with 7:34 left. The two-point try was no good. Kaleb Keiser recovered the botched handling of the pooch kick giving the Wildcats the ball at midfield. Alex Santos took the hand-off and rambled 50 yards on the first play for another Trumann score. The two-point play again failed to make the score 12-0 Trumann. The Hornets responded on their next drive as they drove and scored on a Malik Versie two yard run to make it 12-6 Wildcats with 3:36 left. The two-point try was no good. Harrisburg recovered the onside kick at the Trumann 47-yard line and drove to six-yard line as the first quarter ended with Trumann up 12-6.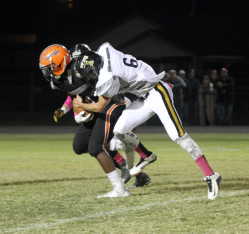 Full story write up available in the October 22 edition of the PCDT!