Officials give updates at intergovernmental meeting
Monday, October 26, 2015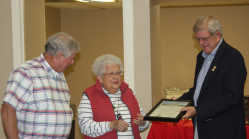 County officials met in Harrisburg recently to give city updates during the quarterly Intergovernmental Council Meeting.
In city updates, Harrisburg Mayor Randy Mills said in the last three months, a medical clinic, a new flower shop, and McDonald's have opened up. He said new apartments are going up, and several land developers are making plans for the city. Also, the veterans park in downtown will be dedicated on Veterans Day.
For Marked Tree, Mayor Mary Ann Arnold said after the Poinsett Cafe closed, it has now reopened under new management as the Poinsett Grill. She also said a large rice facility is going in which will use the rail spur originally built for Awesome Products.
Tyronza Mayor Charles Glover said the city has a new "Welcome to Tyronza" sign, thanks to a partnership with the Southern Tenant Farmers Museum, and will now look into lighting for the sign. He also spoke about the Seniors Helping Seniors program at the Marion Bearden Tyronza Senior Center. The grant-funded program put computer equipement in the senior center and allows EPC students to come over one day a week to teach seniors how to use computers. "The senior center is set up for Wi-Fi, so basically we're having a senior citizen bistro," Glover said.
County Judge Bob Cantrell said the county is fixing roads and bridges. "We're seeing a lot of improvement, but there's a lot that's got to be done. We're moving forward and trying to keep in budget," Cantrell said.
For the full article, see the Oct. 22 edition of the Poinsett County Democrat Tribune or read the paper digitally.