Tyronza seniors learning computer skills
Monday, October 26, 2015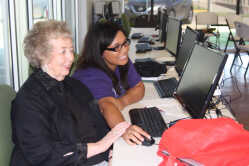 Thanks to a grant and the help of East Poinsett County students, senior citizens in Tyronza are learning how to keep up with technology.
The city of Tyronza received a $20,000 grant from the Ernest and Anna Ritter Family Endowment Fund to improve digital literacy in the community. The money was used to provide computer equipment for the Tyronza Senior Center, and the city partnered with EPC High School to bring in students to teach senior citizens how to use the computers.
The program is called Seniors Helping Seniors. EPC teacher Jennifer Fithen said she brings four students each Thursday from 9 a.m. to 2 p.m. to help seniors with any technology questions they may have. The students receive community service credit, and the senior citizens learn things like how to set up e-mail, use programs like Skype and Google Earth, and learn how to scan pictures, just to name a few. People can even bring their own laptops and tablets to the center as it is now a Wi-Fi hotspot. The seniors also share stories with the students over lunch.
The computers were set up by the end of August, and EPC students started coming the first week of September. "When we first came," Fithen said, "a lot of the seniors were scared to come over. A common thing for them to say was they didn't want to break the computers." Those first weeks were spent building comfort with the six computers now lining the far wall of the center.
"They're becoming more comfortable," Fithen said. "Every week, we see an increase in the number of people who come for help. The students enjoy it. They come back to school and share the stories they learned at lunch." Some students and seniors even found out they attended the same church without ever knowing and now sit together at church.
One senior at the center last week, Maurice Shortnacy who lives near Marion, came because she was having problems with her new computer. Her sister attends the center regularly and told her about the program. "I had an old computer that died, so I bought a laptop," Shortnacy said. "I was unable to get my mail or move around in the computer at all. It was completely different." She not only learned how to use her new computer, but also learned more about the features on her phone.
"I'm good to go," Shortnacy said. "If not, I'll be back next week. They've helped me immensely. I think it's a great thing they're doing. We didn't grow up with computers."
Amelia Worsham, one of the students who volunteers with the program, said she loves seeing seniors' eyes light up when they learn how to do new things on the computers. "I really enjoy it because I know from my grandma's perspective, they're clueless about computers." Worsham talked about showing them how to see their children's houses on Google Earth and how to use e-mail to stay in touch with friends they haven't seen in a while. She also helped a lady who had her own phone number listed under her husband's name so that when she tried to call him, her phone was actually dialing her number. "She was calling herself for years," Worsham said. The problem was fixed, and she was finally able to call her husband on her cell phone.
Tyronza Mayor Charles Glover said the next step is to get Nooks, Kindles, and e-readers for the center and get the seniors set up with Jonesboro library cards so they can borrow books digitally. The students are also working with seniors to get their old photos scanned so they can put together family trees.