Assistant Superintendent Barbaree speaks to Trumann Lions Club
Tuesday, October 27, 2015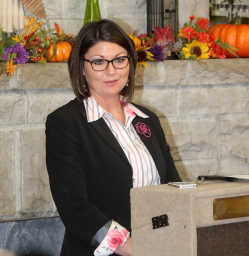 Jennifer Barbaree, new assistant superintendent of the Trumann School District, was the guest speaker last Wednesday at the Trumann Lions Club weekly meeting.
Barbaree told the group she had heard it was good to start off with a statistic, so that is what she did. "Sixty-six thousand. That is the number of children being raised by their grandparents in Arkansas. That is nine percent of the school children," Barbaree said. That fact stands out with her as she was raised by her grandmother, Me-Maw, since she was 13. "It was the best thing to ever happen to me, being raised by my Me-Maw," Barbaree said.
Barbaree and her husband Brandon, an assistant coach for the Wildcats football teams, are both in their first year at Trumann. The couple have three children.
Barbaree grew up in Pine Bluff and graduated from Watson Chapel, where she was all-state in basketball, softball, and track. She got her Early Childhood Education degree from the University of Central Arkansas before getting her Masters in Special Education degree from Harding University. She is scheduled to get Specialist's degree from Harding in the spring. She did her student teaching in Cabot before getting hired to teach special education.
While going for her master's degree, Barbaree said she changed her major to get a principal's degree so she could help all the kids instead of just those in the classroom. "I wanted to help them all," Barbaree said.
Having been a principal for five and half years at Watson Chapel, England, and Lonoke, Barbaree wasn't sure she wanted to give up being a principal. "I've seen kids in all walks of life and it's helped me be a better principal. Building relationships with the kids and their parents is so important," Barbaree said.
Barbaree had to give props to her boss, Superintendent Myra Graham. "Myra has inspired me with her vision for the school. It's all about the kids," Barbaree said. She told the group that Trumann is one of five schools that have the 1:1 initiative where each child has their own device to help with school work and projects. "Kindergarten through fourth grade have an iPad they can use at school, and fifth through 12th grade have a MacBook that may be taken home with them daily. These items are great educational tools," Barbaree said.
"My Me-Maw taught me many things that I try to pass on to not only my kids but to all the kids. The most important were to be polite and respectful. Always work hard, make a difference, never give up hope because without hope you have nothing, and to never quit," Barbaree said. She ended with another statistic: 1,620. "That is the enrollment of TSD and that is the number of children I will impact with using my Me-Maw's lessons," Barbaree said.