Faith McCoy
Monday, October 26, 2015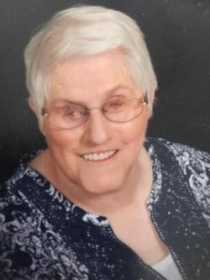 TRUMANN - Miss Faith June McCoy, 61, of Trumann died Wednesday, October 21, 2015 at the Flo and Phil Jones Hospice House in Jonesboro. Faith June McCoy was just 4 days shy of 62 years old when she was called home to be with her Heavenly Father on October 21, 2015. Faith was a beautiful soul who was proud to be a Christian and she loved the Lord above all else. Cherished and loved by all who knew her, Faith was an incredible prayer warrior and a devoted friend to everyone she knew.
On October 25, 1953, Faith June McCoy was brought into this world along with her siblings: Faye and Floyd. The McCoy triplets were born at the family residence in Trumann with each one weighing less than two pounds. Faith was the only surviving triplet. Faith graduated from Overton High School in Memphis. Never considering her blindness to be a disability, Faith lived her earthly life to its fullest. In the late 1970's and early 1980's she worked in sales at KXRQ, a radio station then located in Trumann. She also served over two decades as a church pianist.
Faith enjoyed knitting and she had a love for writing. Afghans, scarves, and dishtowels were often made for friends and family. And, as an author, she very excited when her first book, a Christian novel titled The Unexpected, was published in 2001. She was working on her second book at the time of her death.
Faith was a member of Maple Grove Baptist Church in Trumann. She was preceded in death by her parents, Orville and Mardell McCoy and her siblings Patsy (Frank) Hendrix and triplet infants Faye and Floyd McCoy. She is survived by her siblings Zada (Marvin) Massey, Janice (Dale) McDaniel, and David (Teena) McCoy. She also leaves behind several nieces and nephews, as well as numerous friends and church family members.
Funeral services were Oct. 23 at the Maple Grove Baptist Church near Trumann with Rev. Bobby Brooks and Dr. Jimmy Mauldin officiating. Burial followed in the Nettleton Cemetery in Jonesboro under the direction of Thompson Funeral Home in Trumann.
Pallbearers were Danny Pippinger, Tim Renshaw, Nicky Stockton, Scotty Spence, Darrell Donahue and Lee Watson. Honorary pallbearers were Neva Henderson's Ladies Sunday School Class of Maple Grove Baptist Church.
An online register book can be signed at www.thompsonfuneralhome.net.