Carolyn DuVall
Thursday, October 29, 2015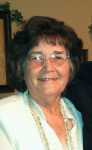 MARKED TREE - Carolyn DuVall, born March 26, 1948, passed away Oct. 5, 2015 at NEA Baptist Hospital in Jonesboro, surrounded by family.
She is preceded in death by her husband, Gene DuVall; parents Grady and Myrtle Worthey; two brothers Harold Worthey, Dale Worthey; and two sisters Helen Harrelson and Sharron Bishop.
Carolyn was employed by Marked Tree School District as a bookkeeper. She was a member of the Marked Tree Church of God, where she served on the church counsel, was a Sunday school teacher, and a member of the choir. She loved gardening, spending time with family and friends, but most of all, she loved serving the Lord.
Carolyn is survived by son Bryan (Judy) DuVall and daughter Stacey (Michael) Blagg, all of Marked Tree; seven grandchildren, Justin, Karmyn, Elizabeth, Meghan, Breanna, Braden, Anna; and nine great-grandchildren, Prailey, Leona, McKenzie, Hartley, Grayson, Garrett, Ayden, Fallyn and Eastyn.
She is also survived by two brothers, Wintford (Betty) Worthey of Murray, Ken. and Ronnie (Kathy) Worthey of Marked Tree; and one sister, Cathy (Gary) Hisaw of Trumann. She leaves behind a host of nieces, nephews, brother/sister-in laws, a loving mother-in-law and many people who loved her very much.
Services were held Oct. 8 at the Marked Tree Church of God, with Bro. David Fields and brother-in-law Paul DuVall officiating. Burial was held at the Tyronza Cemetery.