Wildcats down Brookland to stay in playoff hunt
Tuesday, November 3, 2015
Trumann (5-3, 2-3 4A-3) kept their playoff hopes alive with a 46-18 homecoming win over Brookland in high school football action this past Friday night at Wildcat Stadium.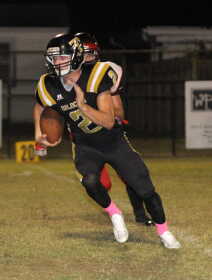 Brookland took the opening kick-off and drove down the field scoring on a touchdown pass with 10:42 left. The point-after was good to make the score 7-0 Bearcats. Trumann was forced to punt on their first possession but got the ball back a few plays late when Garrett Woods intercepted a Brookland pass and returned it to the Bearcats' 47-yard line with 7:44 left. Alex Santos had a big run to the 21-yard line before Cade Gartman covered the last 21 yards for the touchdown. Gartman added the two-point conversion run to make it 8-7 Trumann. Trumann forced Brookland to punt on the next series only to give the ball back when Kevonte Andrews fumbled after catching a pass from Connor Haag with the Bearcats recovering at the Trumann 35-yard line. The Bearcats had to settle for a 31 yard field goal to take a 10-8 lead with 1:51 left. The Wildcats answered 11 seconds later as Santos took a hand-off up the middle and sprinted 62 yards for a touchdown. Gartman added another two-point conversion run making it 16-10 Wildcats. The scored stayed the same as the first quarter came to an end.
Pick up a copy of the October 29 edition of the PCDT for full story!