Junior Wildcats beat Highland for 9-0 perfect season
Thursday, November 5, 2015
After battling Highland to a tie last year in Trumann to finish 8-0-1, the Junior Wildcats (9-0) had only one thing on their mind last Thursday night..PERFECTION! Trumann used their punishing ground game as they have all season to post a 22-14 win over the Junior Rebels in winning back to back 4A-3 conference titles.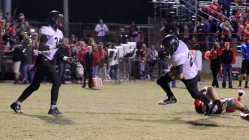 "Last year left a bad taste for us," Trumann junior high head coach Craig Green said about the team. "We wanted to end the season perfect and it was nice getting to do that on their home field," Green added.
Keaton Kent recovered the opening kick-off from Highland giving the Junior Wildcats the ball on their own 47-yard line. Trumann's ground game moved the ball to the Highland 18-yard line before Trumann got the Junior Rebels' defense to jump offsides on fourth and five to get a new set of downs. Jesse Penter put the Junior Wildcats on the board with a ten yard touchdown to make it 6-0. Jay Taylor Morgan added the two-point conversion run making it 8-0 Trumann with 2:19 left in the first quarter. Highland was driving the ball using a mixture of running and passing plays as the quarter came to an end.
Pick up a copy of the November 5 PCDT for full game story!!