Griffin's big night send Marked Tree past EPC
Thursday, November 5, 2015
Marked Tree (6-3, 4-2 2A-3) got a huge night from D'Angelo Griffin as the Indians beat conference and county rival EPC (3-6, 2-4) 40-28 in high school football this past Friday night at Warrior Field. It was the Indians first win over the Warriors since 2008.
EPC got the ball to start the game and moved into Marked Tree territory. Clay Malone was pressured and threw a backward pass that was picked up by Ricky Harmon and returned deep into Warriors' territory. A penalty against the Indians brought the ball back to their own 40-yard line. Marked Tree put together a scoring drive that was helped with a fourth down conversion and capped off with a Blake Daniels three yard touchdown run with 56 seconds left in the opening quarter. EPC's Drew Cavitt blocked Ramiro Rodriguez'a extra-point to leave the score 6-0 Marked Tree. The quarter ended with the score the same.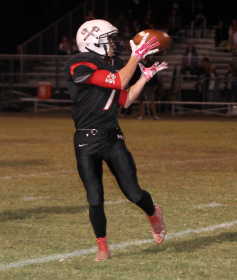 See the November 5 edition of the PCDT for full story!