Wilson inks softball scholarship with Crowley's Ridge College
Thursday, November 5, 2015
Kaylan Wilson of Lepanto saw a dream come true this past Monday at the Michael Pierce Gymnasium. Wilson signed her college scholarship to continue her softball career with Crowley's Ridge College (CRC) in Paragould.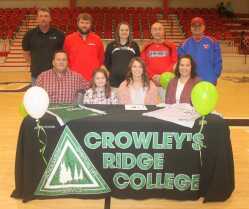 "It mean a lot getting to play ball in college. I get to continue doing something I love and that I've work hard at the last several years," Wilson said.
Wilson has been a three year starter for the Lady Warriors softball team, pitching her first two years before moving to the outfield last year. Blessed with speed and a strong arm the move seemed to fit Wilson well as she's looking forward to the upcoming season. CRC head softball coach Jordan Malone thinks the same thing. "We lost several of our outfielders from last year and we think Kaylan will help in replacing those ladies," Malone said.
Wilson said she was glad to get the signing process over with. "It takes a lot of pressure off of me," Wilson said. Wilson said Coach Malone hasn't talk much about where she'll play in college, but anywhere will suit her. "I'm willing to play wherever I'm needed to help the team," Wilson said.
EPC softball coach Brandon Powell had nothing but praise for Wilson. "They are getting a great student athlete. She comes to practice and works hard everyday. She works just as hard in the classroom as well," Powell said. "She always has a smile on her face," Powell added.
Crowley's Ridge College is a private, four-year, church affiliated but autonomous, coeducational libearl arts college, providing for its students a balanced course of studies appropriate for Bachelor and Associate Degrees. CRC competes in the NCCAA (National Christian College Athletic Association) in men's basketball, baseball and golf and in women's basketball, volleyball and softball. CRC competes in the Division I of the Central Region.