Lake Association members hear update on washout
Saturday, November 14, 2015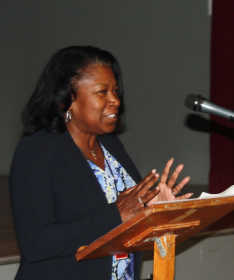 During the St. Francis Lake Association's annual meeting Tuesday night, members got the chance to hear representatives from the U.S. Corps of Engineers talk about the status of repairs to the erosion between Ditch 60 and Ditch 61 that is causing the St. Francis River Basin to be unable to hold water. Speakers for the night included Congressman Rick Crawford, Supervisory Civil Engineer Regina Kuykendoll Cash with the Memphis District of the Corps of Engineers, and Operations Project Manager Mark Mazzone with the Corps of Engineers.
Mazzone went over the details for the repair, which involves plugging the washout at Ditch 61 with large stones and fixing the gravel road between Dam 10 and Ditch 61 to have a uniform grade around elevation 212. Mazzone said right now, the road is very uneven, which provides low points for the water to attack. The plan also involves placing stone on the downstream side of the road. He said scour occurs from downstream up, so that if scour tries to attack in the future, the rock will collapse to fill it in long enough for the Corps to determine a solution and fix it.
Mazzone said the Corps has to acquire some additional right of way to make the fix, and to do that they are doing an environmental assessment, which has to go through a public review period. Once that side of the process is complete, which he estimated would be in two months' time, the Corps will have completed everything it needs to do to proceed with the repair.
The only thing holding up the repair at that point is funding. Mazzone said the cost would be several million dollars. Regina Kuykendoll Cash said the Corps has a very limited budget for maintenance projects and that she has "tried to be a voice in the district to get more funding for the maintenance side."
Rick Crawford said the House got up to 7 of 12 appropriations bills passed this year, but the House and Senate got sidetracked over the summer after the Confederate flag issues. He said when the Senate and House do not work together on the budget, the President decides priorities, "and the President doesn't share our priority on this."
"The way to fix this is to get to work in the House and Senate and get the appropriation bills passed," Crawford said. Crawford also encouraged people to join the St. Francis River Association, saying it is easier to advocate for the group the more people belong to it.
Cash said she is optimistic the appropriation bills can be passed and that funding will be in place for 2016. She said the Corps hopes to start contracting the job at the beginning of 2016 and be ready to start repairs after the 2016 flood season. The Corps defines flood season as being from December to June.