Harrisburg falls in NEA YFL Super Bowl
Monday, November 16, 2015
Harrisburg (7-2) played toe to toe with Newport (8-1) for the first quarter. The Greypups showed their speed and power in the second quarter on their way to a 36-8 win and the Super Bowl title in the NEA YFL finale this past Saturday at Warrior Field in Lepanto.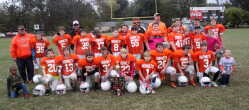 Harrisburg got the ball first and put together a good drive, converting a fourth down along the way, but their second attempt at a fourth down conversion failed giving the ball to Newport. Newport was driving when the first quarter came to an end with the score standing at 0-0.
The Greypups got on board with less than a minute gone in the second quarter and added the two-point conversion for an 8-0 lead. A bad snap between Seth Evett and Samuel Moore caused the ball to hit the ground with Newport recovering. The Greypups took advantage as the found the end zone again with just over six minutes left before half. The successful two-point conversion made it 16-0. The score remained the same at halftime.
Newport added another score with 10:37 left in the third quarter to extend their lead to 22-0. The two-point try was no good. Harrisburg got on the board with a touchdown run from Jace Heeb with 2:26 left. Samuel Moore added the two-point conversion run to make the score 22-8.
The Greypups added a touchdown and two-point conversion early in the fourth quarter and then connected on a long touchdown pass with about six and half minutes left. The two-point conversion failed making it 36-8. The score stayed the same for the remainder of the game.