Yellowjackets win on homecoming night
Monday, November 16, 2015
Bay (5-1, 1-0 1A-3 East) celebrated homecoming night with an 88-55 win over Ridgefield Christian School (RCS) this past Friday night at Bay.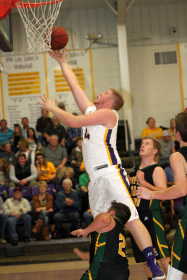 Jonathan Crain gave Bay the early 2-0 lead with a base line jumper ten seconds into the game. RCS canned a three-pointer to take a 3-2 lead. Tyler Pritchett answered with a three-pointer before the Warriors got a basket inside to tie the game at 5. Crain scored off an offensive rebound and was fouled. Crain was good on the free throw making it 8-5. Taylor Layne followed with a three-ball to stretch the "Jackets lead to 11-5. RCS canned another trey before Bay scored the next 12 points to go up 23-8. Pritchett and Layne hit three-pointers around a Dustin Utley basket inside before Pritchett hit back to back lay ups, the first off a steal by Utley and second off a steal of his own. The Warriors scored with two seconds left in the quarter to make it 23-10.
See the November 12 edition of the PCDT for full story!