Wildcats lose regular season finale, make state playoffs
Monday, November 16, 2015
Win and host a first round Class 4A state playoff game or lose and have to travel to northwest Arkansas for the first round. That was on the when Trumann hosted Highland this past Thursday night in a big 4A-3 conference game at Wildcat Stadium. The Rebels jumped out to an early lead and Trumann (6-4, 3-4) could not recover as they fell 45-28. The Wildcats will travel to Pea Ridge Friday to take on the Blackhawks.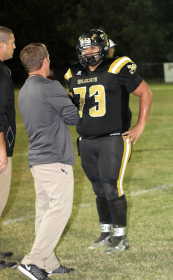 Highland got the ball first and proceeded to drive down the field and score on a touchdown run with 10:12 left. The extra point made the score 7-0 Rebels. Trumann took their first possession and drove into Highland territory. Trey Moody broke loose for a big run but coughed the ball up after being hit with the Rebels recovering at their own 11-yard line. The teams traded punts on their next possessions. Highland moved the ball down into Trumann territory. The Rebels committed a penalty as time expired so three would be one un-timed play before the quarter ended. Highland scored on that play as the receiver out jumped Alex Santos for the ball before running into the end zone for the score. The extra-point was no good leaving the score 13-0 Highland after one.
Full story in November 12 edition of PCDT!