Perry excels on and off the basketball court
Monday, November 16, 2015
Marked Tree's Markel Perry is one of those kids who comes along every once in awhile. While his passion is on the basketball court, Perry also excels in the classroom and the way he carries himself at all times.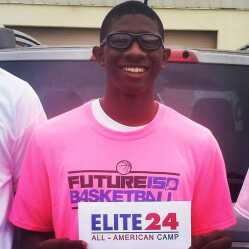 Perry participated in a program over the summer that will help him get ranked nationally for basketball recruiting. Perry advanced from 150 players to the Elite 24 before playing a series of games at a camp in Alabama. "The camp went well. We played with a lot of different players to see how we adjusted each time," Perry said. "We did drills to see what area our game we needed to work on," Perry added. The sophomore was all smiles when asked about the upcoming basketball season. "I'm ready for that first game to get here," Perry said. The season has been pushed back a little due to the football team making the state playoffs.
In the class room, Perry is just as passionate about his school work. This summer he attended a leadership conference in Little Rock where he gave a presentation on Why Voices Matter in front of 50 educators from around the state. When asked if he was nervous Perry replied, Yeah..no not really..maybe a little." Perry said he'd like to have a job that involves public speaking someday.
Marked Tree High School principal Matt Wright and head boys basketball coach had nothing but praise about Perry. "While basketball is his passion, he is even better off the court. He personifies the word leader," Wright said. Wilburn had these words about Perry. "You couldn't ask for a better kid. He plays hard when he's on the court, very defensive minded and may be the best rebounder I've ever had. If you wanted a kid for your kids to follow, Markel is that kid."
As we finished the interview, I asked Marked what drives him to succeed? "I look up to my mom (Adrian Perry). She was a very good athlete and is very intelligent. I'm glad I have mom like her to look up to."