Marked Tree loses heart breaker in state football playoffs
Thursday, November 19, 2015
Marked Tree (7-4) trailed 21-14 when they got the ball for the last time with about five and a half minutes left in the game. The Indians put together a five minute drive that ended in a Blake Daniels touchdown making it 21-20 with 26 seconds left in the game. Marked Tree head coach Cody Wallis wasted little time in going for two and the win. Daniels was stopped a yard short sending the Indians to defeat.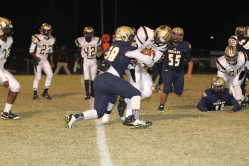 "I had already decided we'd go for the win we got the ball back the last time. Our kicking game hasn't been the best this year," Wallis said.
Brinkley got the ball to start the game and moved the ball down into Marked Tree territory with all running plays. The Tigers had a touchdown called back before they turned the ball over on downs with 7:33 left in the opening quarter. The Indians moved the ball to midfield only to see Jerome Shackleford cough the ball up with Brinkley picking it up and returning it to the Marked Tree 38-yard line. The Tigers capitalized on the turnover as they scored and added the extra-point with 2:16 left to take a 7-0 lead. Brinkley's line drive kick hit a Marked Tree player and the Tigers recovered at midfield. Brinkley again took advantage as they rushed for another touchdown less than a minute later. The extra-point was wide right leaving the score 13-0 Tigers. Marked Tree was facing fourth down when the quarter ended.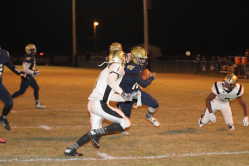 See the November 19 edition of the PCDT for full story!