Edwards signs to play softball for Lady Razorbacks
Thursday, November 19, 2015
Keely Edwards of Harrisburg made it official by signing her letter of intent to play softball for the Arkansas Lady Razorbacks after she finishes her high school career. Joined by family, friends, coaches and her Lady Hornets softball teammates, Edwards was all smiles on her special day. Edwards led the crowd in calling the Hogs after signing her papers.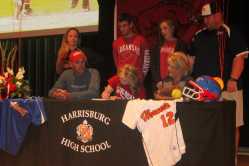 Edwards is a senior all-state middle infielder as well as a multi-sport all-state performer. Edwards was noticed at a showcase event last summer and was offered on the spot by Arkansas. She is projected to be a middle infielder at the college level. Edwards was happy to get the signing behind her. "It takes a lot of pressure off. I'm happy to have it took care of and now to just get softball season here," Edwards said.
Harrisburg head softball coach said the Lady Razorbacks are getting a one of a kind. "She is one of a kind and does things you can't teach," Carpino said. "She's intuitive and has such a passion for the game. It just pours out of her when she plays. Keely is most deserving of this accomplishment. She has worked hard putting in the time, effort, hard work and everything else it's took to get here. I'm proud and honored that I got to be a part of her journey," Carpino added.
Edwards owns a .654 batting average in her three years thus far for the Lady Hornets and has a .980 fielding percentage. Her speed and base running usually gives opposing teams trouble when she's on base. Edwards was invited to participate in the Junior/Senior All-Star Showcase.
Keely gave a simple honest answer when asked what this means to her. "It means a lot to know if you work hard and put God first, you can accomplish anything you set your mind too," Edwards said. Edwards also said she's looking forward to all the new experiences and friends college will bring her. Asked what she'll take with her from Harrisburg when she goes, Keely said, "Memories and friends I'll take with me. The town will also go with me. I'll always remember this small town I came from with the chance to get to go somewhere big someday."