Junior Wildcats win opener in Bay Invitational Tournament
Thursday, November 19, 2015
Trumann's Junior Wildcats (1-0) opened their season with a 50-34 win over Marmaduke in the opening round of the Bay Junior High Invitational this past Monday night.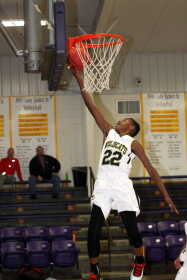 Ben Turner gave Trumann the early 2-0 lead with an easy bucket off the opening tip-off. The Junior Greyhounds tied the game before Cody Roland scored inside while being fouled. Roland's free throw was good to make it 5-2 Trumann. CeJayy Booker made two free throws but a lane violation negated the second making it 6-2 Junior Wildcats. Jesse Penter stretched the led to 8-2 with a basket inside before Marmaduke scored back to back buckets to make the score 8-6. Roland and MJ Barnes scored back to back buckets off offensive rebounds followed by a jumper in the lane from Barnes to push the Trumann lead to 14-6 with less than a minute left in the opening quarter. Marmaduke got a basket to make the score 14-8 after one.
Full game story in November 19 edition of the PCDT!