Local artists display talent at Fine Arts program
Wednesday, November 25, 2015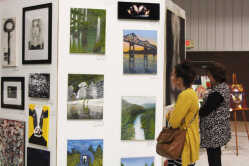 Trumann artists were on hand to perform and show off their work during the Trumann Fine Arts Council's 29th annual membership meeting last Thursday.
"I think this evening, one thing we can say is Trumann has talent," said Barbara Lewallen, Vice President of the Fine Arts Council and Trumann mayor.
During the evening, artwork from locals artists was on display, members of the Trumann school band performed songs, and a local children's author signed copies of her books. Lewallen said that over the years, the Trumann Area Fine Arts Council has put on plays, concerts, art shows, and held art classes.
The council was first established in 1986. While they have worked to enrich the community over the years, Lewallen pointed out that members are getting older and are looking to get younger people involved in the organization. Two younger people who have stepped into the Fine Arts Council are Beth Kemper, who is serving her first year as membership chairman, and Jessica Wilson, who serves as art chairman.
Wilson, who has taught art at Cedar Park Elementary for eight years, said, "It's a proven fact that art has a great social impact. Art is important for the community." Wilson also said the group is planning on holding art classes for adults soon.
During the program, Rick Gillette was presented with an award in appreciation for all he has done for the Fine Arts Council.
Amanda Hopkins, Cedar Park Elementary teacher and author of two children's books with a third to published next summer, also spoke briefly about her books. The books are fictionalized accounts of her dog, Daisy, who she and her husband adopted four years ago. "Daisy's got everyone wrapped around her paw," Hopkins said. She said her mother prompted her to write books about Daisy after hearing about the popularity of her stories about the dog with the kids at school.
Artists whose work was on display in the art gallery included Matt Ball, Dustin Knight, Stacy Lairson, Lyndsey Moore, Judy Thompson, Joseph Timbs, Amber Wigtion, and Jessica Wilson. Band members who performed included Wayde Milligan, Trey Goff, Brittany Doyle, Kirby Weaver, Madison Stewart, Kaira Keizer, Trevor Fagan, Jacob Fagan, Hannah Short, Morgan Boyd, Matt Phillips, Hunter Kent, Jacob Elrod, and Ryan Renshaw. Students performed songs ranging from "March of the Tin Soldiers" to "America, the Beautiful" and "Say It Ain't So."