Junior Wildcats fall to Bay in tournament semi-finals
Friday, November 27, 2015
Trumann (1-1) jumped out to an early 5-0 lead only to see Bay outscore the Junior Wildcats 10-4 the rest of the quarter and take a lead the Junior 'Jackets would not give up the rest of the night on their way to a 49-39 win last Thursday advancing to the finals of the Bay Invitational Junior High Tournament.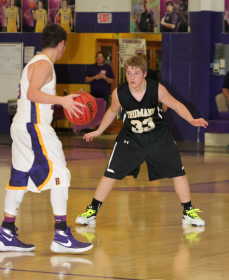 Trumann's Ben Turner opened the game with a three-pointer followed by MJ Barnes with a lay up off a Jesse Penter steal to make it 5-0 Junior Wildcats. Layne Austin canned a three-ball for Bay and Dax Gibson got a bucket inside to tie the game at 5. CeJayy Booker hit a jumper for Trumann before Austin canned another three-ball for Bay making the score 8-7 Bay. Booker scored inside and Gibson hit a running jumper in the lane right before the buzzer to make it 10-9 Bay after one.
Pick up a copy of the November 26 edition of the PCDT for full story!