Morgan competes at WABDL World Championships
Friday, November 27, 2015
Eddie Morgan, a teacher at Trumann Intermediate School, recently participated in the World Association of Benchers and Deadlifters (WABDL) in Las Vegas, NV. The event was held at the Bally's Hotel convention center.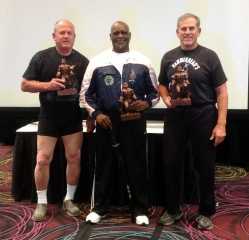 Morgan, who was a member of the 1975 Arkansas State Indians undefeated football team, competed in the 61-67/242 age/pound division. The 62 year old Morgan weighed in at 238 pounds for the competition.
With a successful lift of 606 pounds in the deadlift, Morgan just missed out on lifting 628 pounds. He was awarded best lifter for his efforts.
Morgan said there will be a national championship competition coming up in Jonesboro on February 27 at the Fairbridge Hotel. Anyone interested in can call 870-219-1452 for more information about the competition.