Hornets hold off pesky Southland team
Thursday, December 3, 2015
Harrisburg (4-1) used a 9-2 run midway through the fourth quarter to break a 42-42 tie before going on to post a 54-46 win Southland, MO in high school basketball action this past Monday in Harrisburg.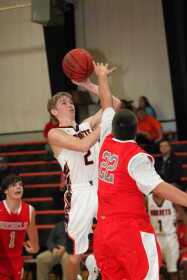 Zach Biggers opened the scoring for Harrisburg with a three-pointer from the right corner to make it 3-0 Hornets. The next three minutes saw no scoring before the Rebels got inside for a score making it 3-2 Harrisburg. Gatlin Greeno drained a three-ball from the right wing and Dylan Mathis went coast to coast for a lay up to make the score 8-2 Hornets with 1:34 left. The score stayed the same as the quarter ended.
Read full game story in the December 3 edition of the PCDT in news stands now!!