Lady Yellowjackets win opener at WBC Tournament
Thursday, December 3, 2015
Bay (11-2) had four players score in double digit points as the Lady 'Jackets downed Maynard 82-52 in their opening round game of the Williams Baptist College Tournament this past Tuesday night in Walnut Ridge.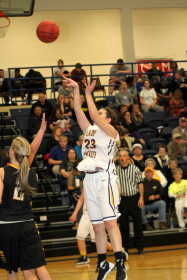 Bay jumped out to a 7-0 lead to start the game as Whitlee Layne hit a jumper, Katie Ferguson canned a three-pointer from the left wing and Sarah Blackman made a lay up off the fast break. Maynard scored a basket down low and Blackman answered with a jumper for Bay to make it 9-2 Lady Yellowjackets. Back to back to back baskets by Maynard made the score 9-8 before Bay's Mallory Hartley scored inside and Layne had back to back lay ups, the second off her own steal, to make the score 15-8 with 2:58 left in the opening quarter. The Lady Tigers hit two free throws and then a base line jumper to make the score 15-12 Bay. Sydney Higgins hit one of two free throws and Ferguson canned another three-pointer to give Bay a 19-12 lead as quarter ended.
Grab a copy of the December 3 copy of the PCDT for full game story!