Community House roof repairs complete
Friday, December 4, 2015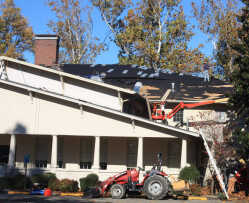 Repairs to Community House roof and electrical system were completed last week thanks to a grant from the Arkansas Historic Preservation Program. Trumann Mayor Barbara Lewallen, who wrote the application for the 2:1 matching grant back when she was director for the Trumann Chamber of Commerce, said the Community House is "worth preserving. It's one of the most used buildings in the community."
Among the work taken care of over the past couple months, one of the major repairs was replacing the roof, which has been leaking badly, with 30-year architectural shingles. Lewallen said these would last longer and hold up better than the roof's previous shingles. The roof replacement was completed last Wednesday, Nov. 25, just before the long rains over the weekend, and according to Hazel Riley, who runs the Community House, there were no big leaks for the first time in a while.
Workers also replaced the decking and redid the electrical system for the first time in about 20 years. Lewallen said the electrical system was in bad shape and was, along with the roof, one of the critical areas to fix. Anytime someone wanted to turn the lights on in the gym, they had to throw the breakers, which were not working well. Also, the main electrical cutoff was in the building on the same wall. Lewallen said the cutoff looked like it was original to the 1927 building and need to be relocated outside. The main cutoff was moved outside and switches with labels were added to the breaker box, which Riley was thrilled about. Emergency exit lights were also put up. And all the work was done by local people, Lewallen said.
Once the invoice comes in and the Community House Foundation knows how much is left of the $39,460 grant, they can look at other needed repairs. Lewallen said they will also be doing fundraisers to raise money to be used for an application for another 2:1 matching grant for the rest of the work that needs to be done, which includes repairing the windows in the gym, replacing metal doors, upgrading the bathrooms, and painting.
"Now the Community House Foundation can focus more on upgrading and maintaining the building," Lewallen said. "The goal is to keep it as close as possible to the original. We're really thrilled. The city doesn't own the Community House, but we help support it because it is important to the community. It's a symbol and a landmark."