Junior Wildcats fall short against Highland
Thursday, December 10, 2015
In a close game all night long, Highland built a seven point lead midway through the final quarter. Trumann got as close as 52-50 with a little over a minute left only to see the Junior Rebels pull away to win the game 58-53.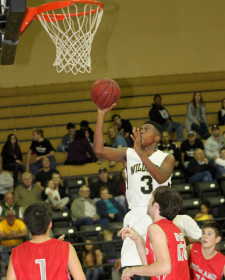 MJ Barnes got the Junior Wildcats on the board first with two free throws for a 2-0 lead. Highland got a basket inside before Jesse Penter canned a three-pointer to make it 5-2 Trumann. The Junior Rebels hit a jumper and Trumann got back to back buckets from Cody Roland and Barnes to make the score 9-4 Junior Wildcats. Highland got back to back scores to pull with 9-8 only to see Roland convert an old-fashioned three-point play to make the score 12-8 Junior Wildcats with 1:40 left in the quarter. Highland scored off an offensive rebound and followed with a three-ball to take a 13-12 lead with less than a minute left. Ben Turner scored inside and Highland answered with an inside basket to make it 15-14 Highland. Zach Buchanan drilled a three-pointer in the closing seconds to give the Junior Wildcats a 17-15 lead after one.
Full game story in the December 10 edition of the PCDT!