Lady Yellowjackets win tournament title
Thursday, December 10, 2015
Bay's Lady Yellowjackets won the Williams Baptist College Tournament this past Friday with a 59-52 win over Pocahontas. This was the first time for Bay to play in this tournament.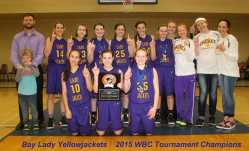 The Lady Redskins came out hot early taking a 10-2 lead over Bay in the first four minutes of the game. Whitlee Layne scored Bay's only points during that time. Layne added two free throws to make it 10-4 before Pocahontas scored back to back baskets to push their lead to 14-4. Baylee Bowers connected on two free throws for Bay and Layne hit a jumper in the lane after a Lady Redskins' basket to make the score 16-8 Pocahontas. The Lady Redskins added an inside basket to make the score 18-8 when the first quarter ended.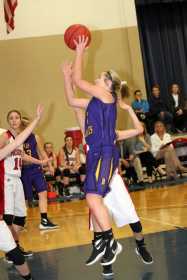 Full game article can be found in the December 10 edition of the PCDT on news stands now!