Trumann Junior Wildcats: a look back at perfection
Thursday, December 10, 2015
The Trumann Junior Wildcats did something not many teams have the opportunity to do and that's go undefeated and untied during a football season. The Junior Wildcats capped off a 9-0 season giving the team back to back conference titles making the freshmen on the team one of the winningest groups to ever come through. Those guys compiled a 25-0-2 record starting as seventh-graders with one tie their first year and the tie in last season's finale. Head Coach Craig Green had nothing but praise about his team.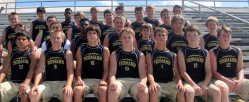 "After the tie with Highland last year in the last game, it kind of left a bad taste in the kids' mouths. The season started that next day and we told the then eighth-graders that is was there turn to carry the torch and they responded," Green said. "A lot of people thought after losing that big line and our best back, we would be down this year," Green said. But Green said the gym was full of players ready for the off-season that next day and they were eager to get started. "The gym was full and the kids got after it that first day," Green added.
Trumann opened the season with wins over Hoxie and Manila with identical 36-8 scores giving a boost of confidence to the team. "I think those games opened our kids eyes up especially after playing Hoxie close last year," Green said. Trumann then opened conference play with the next three games being against the toughest teams in the conference. The Junior Wildcats downed Pocahontas 22-14, Westside 20-16 and Gosnell 14-6 moving to 5-0 on the season. "Those were three very tough games. We had to have stops in two of the games in the red zone with a defensive stand inside the five-yard line against Gosnell to preserve the win," Green added. When Green was asked about the momentum building after that stretch of games, he said he could see it in the kids. "We had to tell them we need to take it one game at a time, do the things we are suppose to do each week," Green said.
Full article in the December 10 edition of the PCDT!