Snyder discovers hobby that brings joy to children
Friday, December 11, 2015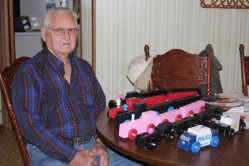 Trumann resident Charles Snyder has toys in nearly every room of his house. Toy tractors, cars, buses, and trains are tucked away everywhere. Snyder made all of them by hand and gives them away to children every chance he gets. He's been carving wooden toys for the past few years. Snyder turns 91 next month and doesn't show any signs of slowing down with his hobby.
Snyder's toy-making hobby started with the passing of his wife five years ago. Her death hit him hard. "I got up one morning feeling blue," Snyder said. "She hadn't been gone long. I started to the shop, and I was just tore up. I started praying. I couldn't think of a thing in the world I wanted to do."
Snyder said while he was praying that morning, God put the idea in his head to make some toys and give them to children. Snyder responded by saying he didn't know how to make a toy. But when he finished praying and looked at the saber saw, a board of wood, a pencil, and a square were sitting right beside it. "How they got there, I don't know. I think He put them there," Snyder said.
When he looked at the board, he wasn't sure where to start, but he began marking off squares to make a toy car. Then, he cut it out and has been making toys ever since. Snyder takes no credit for the toys. "It was the Lord who did it. He caused me to do it," Snyder said.
Snyder took some of the toys to his church and talked to the pastor about giving them out to the kids. Since then, he has taken several bundles toys to the church. "They've been giving them away as fast as I can get them done," Snyder said. Snyder's son is a pastor for a church in Mississippi, and he gets bundles of toys every time he visits to bring to the kids there.
Snyder has given away more toys than he can count. He donated 100 to the Trumann Lions Club's Christmas toy drive last week and gives toys to any kids who come by. "I'm lucky God didn't specify who to give them to. He just said: give them to the kids," Snyder said.