McWayne shares love of cooking for holidays
Friday, December 11, 2015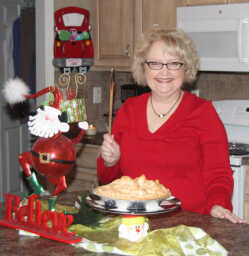 Patti McWayne has always loved to cook. When she married her husband in 1977, a friend gave her a Better Homes and Gardens cookbook. Now that book is very worn, but that is the book she used to teach herself how to cook.
"I started baking birthday cakes when my kids were small because you couldn't find the things you wanted in this area," McWayne said. "They still expect a homemade birthday cake to this day." McWayne makes birthday cakes for all her family members.
She also belongs to bunco group and a book club where group members take turns providing the meals. "Everyone loves what I bring to eat," McWayne said. "I always have friends asking me to make things for them." McWayne has done catering in the past from weddings to friends' birthdays. This year, McWayne decided to take orders from friends for desserts over the holidays.
For Thanksgiving she ended up baking 14 cream pies to order on the day before with help from her daughter, Megan. She has even more orders for Christmas: 22 cream pies, 7 Italian cream cakes, and 27 dozen sausage balls. "So I'll be one of Santa's little elf cookers for Christmas," McWayne said. Many of the people who ordered pies on Thanksgiving made Christmas orders too. And many have told McWayne her pies taste just like the ones their mothers and grandmothers used to make.
McWayne plans to make this a regular thing with some kind of dessert to order available for each holiday.
"It's always been a joke that I should get a 1-800 number to answer cooking questions. I've always had people call for cooking questions," she said. McWayne works for the Trumann School District as the Parent Center Coordinator and tries to stress the importance of cooking at the school. In 2010, she held a cooking class for grades 7-12 through a 21st Century grant, and at the Parent Center she always tries to stress to parents the importance sitting down as a family to have a meal together at the end of the day. "It's important to share your day with each other, and good food never hurts either," McWayne said.
One of the great things about how cooking has changed over the years, McWayne said, is how easy it is now to find any recipe by searching online. "There's no excuse for not knowing how to cook. You can Google it. You don't need a million cookbooks, though we still treasure them," McWayne said.
For her next adventure in cooking, McWayne said she would like to do cooking classes for adults to teach them a love for cooking.