Evelyn Juanita Penter
Tuesday, December 15, 2015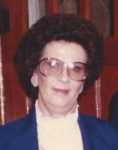 Mrs. Evelyn Juanita Penter died Thursday, Dec. 10, 2015, at White River Medical Center in Batesville, Ark., at the age of 86. Mrs. Penter was born Feb. 4, 1929 in Trumann to the late Albert and Mildred Christina Deckleman Teague and was a lifetime resident of Trumann. She was a housewife and a member of the Freer Baptist Church in Trumann. She was preceded in death by her husband, J. P. Penter, one sister, Lorene Lansdale and her parents.
She is survived by her daughter, Debby and husband Mike Collom of Batesville; one son, Dennis and wife Doris Penter of Trumann, 4 grandchildren, Dennis Jr. and wife Julienne Penter of Trumann, Zach and wife DeAnn Penter of Trumann; Myles McDougal of Little Rock and Charity McDougal of Batesville, AR., 7 great-grandchildren, Jesse, Annaleigh, MaryBeth and Lawson Penter; Clarity, Dillon and Cherish McDougal, three sisters, Gladys Hollihan of Pine Bluff, Carol Montgomery of Batesville and Kay Jenkerson of Grand View, Mo; two brothers, Albert Teague Jr., of Grand View, Mo., and Billy Wayne Teague of Trumann.
Funeral services were Saturday, Dec. 12, with Rev. Larry Loggins officiating. Burial followed in the Jonesboro Memorial Park Cemetery in Jonesboro, Ark.
Pallbearers were Paul Smith, Billy Looney, Zach Penter, Myles McDougal, Johnny Whitman, and Billy Chaffin. Honorary Pallbearer was be Dr. Robert Walton.
In lieu of flowers memorials may be sent to Caring Hands Hospice, 2000 Harrison St., Ste. E, Eagle Mountain Assisted Living, 302 Woodmont, Circle, Batesville, AR 72501.
An online register book can be signed at www.thompsonfuneralhome.net.