Mary Ella Martin
Tuesday, December 15, 2015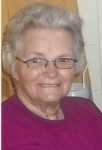 Mrs. Mary Ella Martin of Trumann died Friday, Dec. 11, 2015, at St. Bernards Medical Center in Jonesboro at the age of 78. She was born on Aug. 5, 1937, in Madison County, Ala., and had lived most of her lifetime in Trumann. She was a housewife and member of the First Christian Church. Mrs. Martin was preceded in death by her husband, John Marvin Martin, one brother, Kenneth Ray Moore and her parents, D.C. and Lydia Renegar Moore.
She is survived by one daughter, Marvella Martin of Trumann; two sons, John and wife Kay Martin of Jonesboro and Jerry Martin of Trumann; one sister, Doris Bailey of Rome Ga.; one brother, David Charles Moore of Soddy-Daisy, Tenn., three grandchildren and three great-grandchildren.
Funeral service will be Wednesday morning December 16, 2015 at 10:00 A.M. in the chapel of Thompson Funeral Home with Rev. John Maley officiating. Burial will follow in Jonesboro Memorial Park Cemetery in Jonesboro, AR.
Pallbearers will be Jimmy Creecy, Wendell Rowlett, David Luton, George Duboise and Johnny Moss. Honorary pallbearer will be Charles Stephan.
Visitation will be Wednesday morning from 9:00 a.m. until 10:00 a.m. at Thompson Funeral Home in Trumann.
An online register book can be signed at www.thompsonfuneralhome.net.