Lady Yellowjackets cruise past EPC
Friday, December 18, 2015
EPC played close for the first half of the opening quarter before Bay (16-2) got rolling and increased their lead at the end of each quarter on their way to a 62-41 win over the Lady Warriors this past Friday in Bay.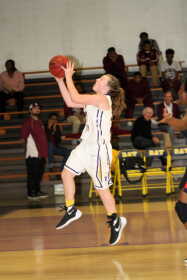 Jaleigha Garrett gave EPC an early 3-0 lead with a three-pointer from the left corner before Mallory Hartley scored inside bay to make it 3-2. Lady Warrior Krystan Vornes grabbed her own miss and scored as Hartley did the same for Bay making the score 5-4 EPC. Becca Bishop scored inside to make it 7-4 EPC only to see Baylee Bowers tie it at 7 with a three-ball from the left wing for Bay. Vornes scored inside to make it 9-7 EPC as Bay got one of two free throws from Whitlee Layne, an inside basket from Hartley and a fast break lay up from Katie Ferguson to give the Lady 'Jackets a 12-9 lead with 3:39 left in the quarter. Bailey Constant's jumper pulled the Lady Warriors to within 12-11 before Bay got a three-ball from Abby Frisby and a jumper in the lane from Hartley to make the score 17-11 Bay at the end of one.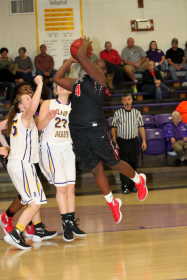 Full story in December 17 edition of the PCDT on news stands now!