Yellowjackets lose tough game to Blytheville
Friday, December 18, 2015
Bay (11-4) led at the end of each of the first three quarters only to see Blytheville outscore the 'Jackets 21-10 in the final quarter to take a 50-44 win this past Friday in Bay.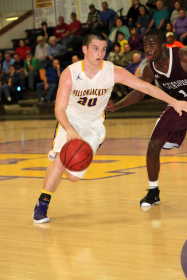 Bay jumped out to an early 4-0 lead as Jonathan Crain and Taylor Layne made back to back baskets before the Chickasaws hit a jumper making it 4-2. Crain scored inside before Blytheville canned a three-ball and a lay up to take a 7-6 lead. Layne gave Bay the lead back at 9-7 with a three-pointer from the right corner with 2:33 left in the quarter. Blytheville tied it at 9 only to see Crain scored off an offensive rebound and Matthew Willard score inside to give Bay a 13-9 lead at the end of one.
Full game write up is in the December 17 edition of the PCDT!