Marked Tree falls in Gerald Jennings title game
Friday, December 18, 2015
Marked Tree came out hot taking a double digit lead after the first quarter. Gosnell got warmed up in the second quarter to take a one point lead after half and came out on fire in the second half as they went on to claim the Gerald Jennings Invitational title with an 89-77 win.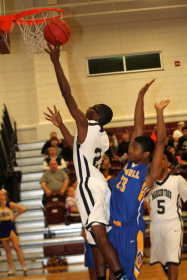 Colby Malone and D'Angelo Griffin opened the game with back to back three-pointers and Nick Andrews followed with a basket inside to give Marked Tree an early 8-0 lead. Gosnell got on the board with a three-ball only to see LaQuentin Miles score back to back baskets to make the score 12-3 Indians with 3:50 left in the quarter. The Pirates scored inside before Malone converted an old-school three-point play and Miles drained two free throws to make it 17-5 Marked Tree. Gosnell scored off an offensive rebound and Andrews did the same for Marked Tree making it 19-7. The Pirates canned another three-ball and Malone's jumper for the Indians made the score 21-10 Marked Tree. Gosnell canned another three-ball and Malone answered with a three-pointer from the right wing to give the Indians a 24-13 lead. Andrews scored inside right before buzzer to make it 26-13 Indians after one.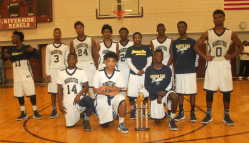 You can find full game story in the December 17 edition of the PCDT!