Marked Tree Police Chief retires
Friday, December 18, 2015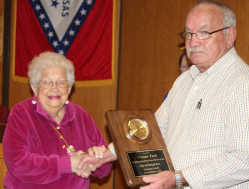 Marked Tree Police Chief Chester Ford is retiring for the second time in his 45 year career in law enforcement.
Originally from Oklahoma, Ford's family moved to Marked Tree in 1950. His father worked for the Marked Tree Police Department from 1951-1987. "I used to go out and ride with him," Ford said. He remembers saying back then that he didn't want anything to do with law enforcement when he grew up, but years later he changed his mind and made it a career.
Ford got his start with the Tyronza Police Department in 1970. From there he went on to work for the Marked Tree Police Department, the Poinsett County Sheriff's Department, and the Arkansas Highway Patrol. He stayed with the highway police a year but didn't like it, so he returned to sheriff's department, where he worked until he retired the first time. Then in 1996, he started at the Marked Tree Police Department as a patrolman. In 2007, he became Chief of Police. He retires at the end of this year at the age of 72.
During a retirement reception Monday afternoon, Ford was honored with a plaque from the city and a citation from Arkansas House of Representatives. "There comes a time in everybody's life when it's time to step down. This is my time. We've got a good police department here and good people in this town," Ford said. He added that the MTPD works well with the surrounding police departments, and he wants to see that continue.
Ford said helping people is what law enforcement is all about for him. "It's not just arresting people. It helping people who are broke down on the side of the road and helping kids out. That's what I enjoy more than anything. Helping people, that's law enforcement," Ford said.
For retirement plans, Ford said he plans to finish out some deer hunting in the winter and take care of several home projects. He will also be mowing for the city, which he enjoys doing.
Ford said it didn't seem like he has been in law enforcement that long because time goes by so quickly. "If I had it to do over with, I probably would do the same thing," he said.